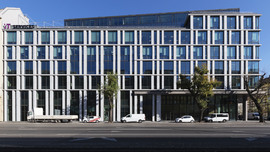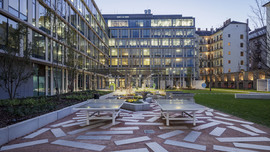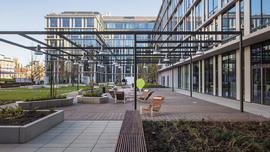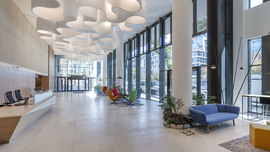 Mill Park
2016-2018 , Budapest, Soroksári street
sk
The redesigned building is consistent with the existing office buildings of Central-Ferencváros and the buildings across Soroksári Street. The new MILL PARK office block will be easily accessible by public transport: both by the bus service running along Soroksári Road, and the Haller Street tram line. The location of the building is also important for the purposes of the future development planned for the district.
The regulation plan requires a continuous building line, and at the adjacent plot on Soroksári Street a firewall attachment with a maximum building height of 24 m. The design program determined the location and access of the representative main entrance.
By breaking down the facades and the volume of the building, in line with the structure of the plot, the larger scale of the new building complex is refined organically. The northern facade of the building facing the space framed by the blocks, will overlook a well-tended park.
The area of ​​Vaskapu Street, behind the intensive construction style of Soroksári Street, is still a low-rise mixed area with industrial, residential and community buildings, but the locality will gradually increase in value and will be rebuilt in the near future. The demolition of the former mill buildings took place in 2008. At Tóth Kálmán Street the building line of the office building designed towards Soroksári Street was set back by 3 meters in order to increase the width of the promenade, green area and create a sense of space. The design of the MILL PARK office building adapts to this context. In accordance with the regulation plan, we planned a firewall attachment to the existing neighboring building on Soroksári Street, taking into account the regulations requiring a continuous building line.
The building site falls into the I-IX-11. zone of the local building regulations, with a requirement of a continuous building line and a maximum building height of 24 meters. Based on this, and in order to utilize the design program to the full, we have placed the functions in a turned-in building block, resulting in the largest possible internal garden for the site.
At the corner of Tóth Kálmán and Soroksári Street, the six-story dominant wing, and the six and seven-story office block, conforming to the regulations, was designed with a green roof on top. The main entrances of the building were placed on the corner intersections of Tóth Kálmán Street. On this section of the street, the building was set back by 3 meters from the property line to add space for a green area and a line of trees in front of the building.
Conforming to, and reflecting the architectural context on the other side of Soroksári Street, we designed a modular, vertical-striped facade architecture with large slabs of concrete shell cladding in a light shade.