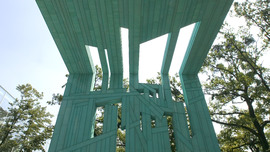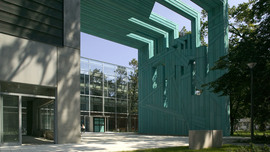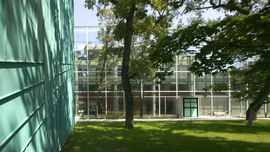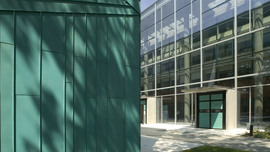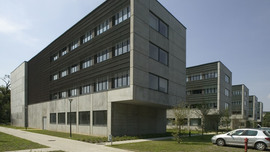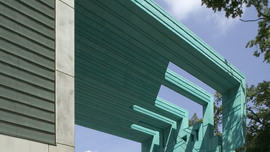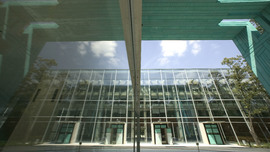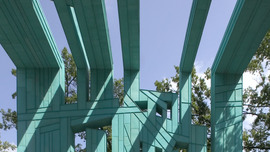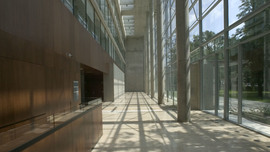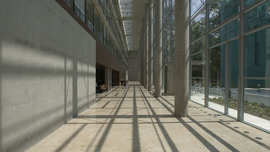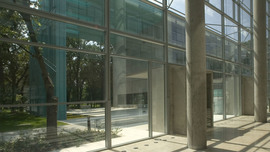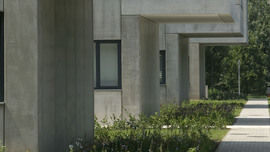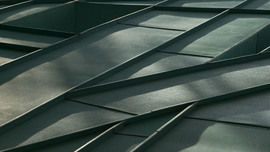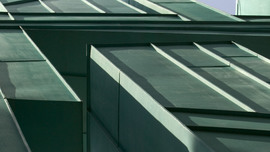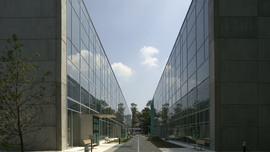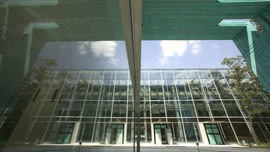 University of Debrecen, Life Sciences Center and Library
2001–2005, Debrecen, Egyetem tér 1.

In the leafy Nagyerdő campus of the University of Debrecen, two new buildings were planned: the Life Sciences Research and Education Center (Life Sciences Center), with the main profile of genetic and pharmaceutical research and the related world-class education, and a library. The underlying structure of the Life Sciences Center consists of a simple 120-meter-long and 16-meter high rectangular longitudinal mass as a grand lobby, and a connected complex of five independent vertical wings, arranged in a comb-like manner, with three stories and a smaller lobby each. The buildings create a network of overlaps and are interweaved on the ground floor.
There are lecture theaters opening on the ground floor off the large and airy lobby, which opens up fully by a top-to-bottom glass facade. In the wings of the building, the three science areas (medical, agricultural and traditional university sciences) included in the project and their related institutes are located: some 150 special research labs, with flexible connections to one another, designed in an ever-changing matrix system, enabling the joint integrated development and synergies of the disciplines.
Parallel to the Life Sciences Center, we designed a simple library building, about half the length of the center. A 'gate', a large-scale artwork by artist János Megyik was designed between the two buildings. The concrete gate-like structure, a prominent spatial element, is clad with patinated green seamed copper sheet metal, with slit openings of various proportions. It is a prime example of the dialogue and collaboration between contemporary art and architecture.
The clear structure, the comprehensive volume forms and generous space arrangement, as well as the up-to-date materials used (such as huge glass facades and exposed concrete sidewalls), provide an adequate and modern contemporary architectural response to the spirit of the outstanding research work done in the building.