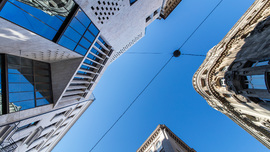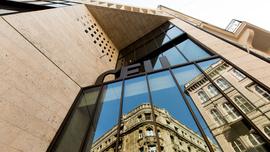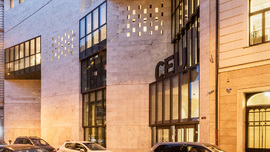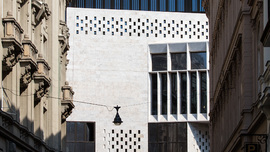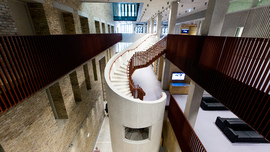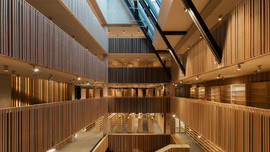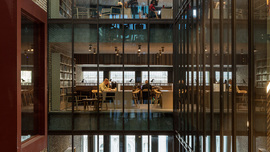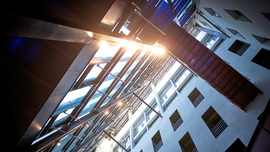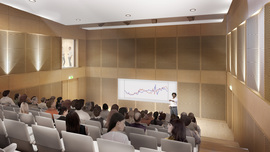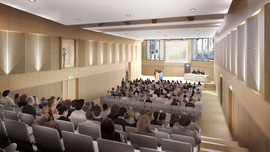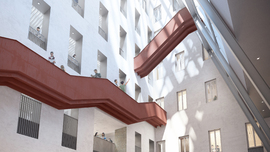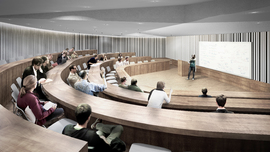 Central European University (CEU)
2011-2016, Budapest
Lead Designer: O'Donnell + Tuomey Ltd. Hungarian partner: M-Teampannon Kft.
Designers of the CEU campus development were the Irish Sheila O'Donnell and John Tuomey Architects, winners of the international competition back in 2011, in cooperation with their Hungarian partner, M-Teampannon Ltd.
First stage of the campus development was the refurbishment of the classicist style existing building at Nádor utca 13., and the design of a new building at the adjacent, empty site at Nádor utca 15. Inspiration for the design concept came from the deep courtyards of tenement buildings at the turn of the 19-20th century with their cantilevered open passages, and from the urban studies of the origin of this spatial pattern, a pattern being echoed in the design in the form of the ingeniously combined inner courts accessed by a new, clear and unambiguous system of breakthroughs and passages.
The architectural solution also exemplifies how to convert an existing space order for an entirely different purpose by way of metamorphosis: turning inside into outside, etc, with a sophisticated system of breakthroughs and interconnections.
Beyond bringing about the communication spaces and setting the inner architectural order of a new campus, another major challenge was to integrate the future Nádor utca 15 building into the dense existing urban fabric of downtown Pest with contemporary means. This goal has been achieved by building up the facade from block-shaped elements of classical lime-stone cladding. The scenic and panoramic roof garden serves leisure needs of the 1500 students of the university.
As an appreciation of the comprehensive and sustainable design approach, the CEU's new campus was rated "very good" in BREEAM terms in July 2015, the first educational institution of its kind in Central and East Europe to boast the privilege.