2019. November 4.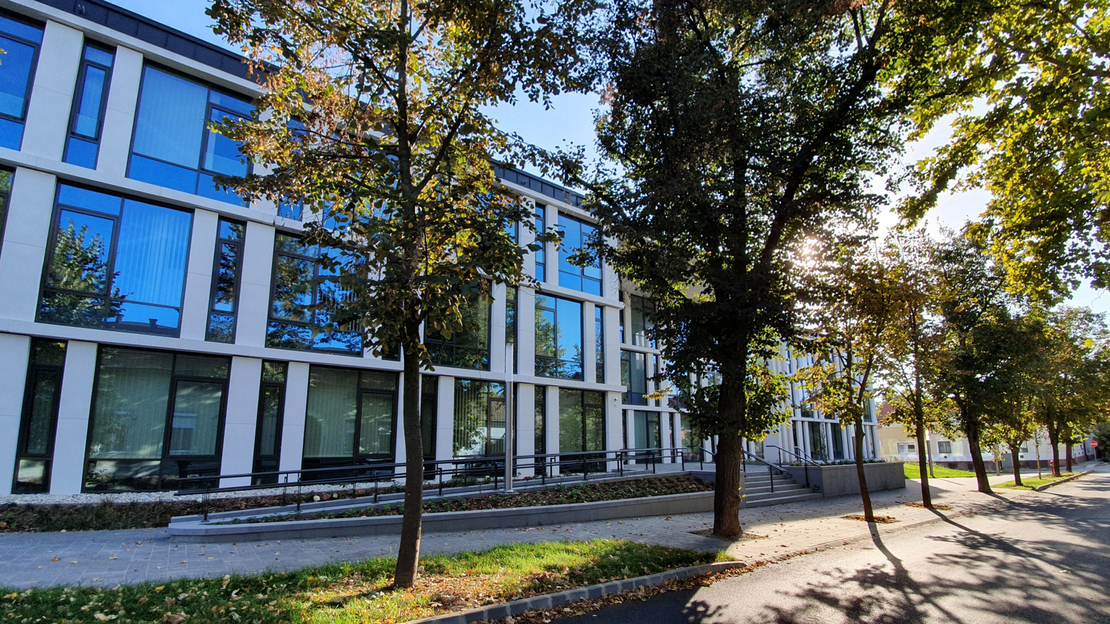 Kaposvár Prosecution Headquarters handed over
In the public announcement of the Head Prosecutor's Office of Somogy County the erection of the Headquarters is called the most important prosecution real estate development of the last hundred years. Design work on the real estate in Apponyi Street started in 2017, and the joint headquarters of the County Prosecutor's Office, of the Kaposvár District Prosecutor's Office and that of the Kaposvár Regional Ivestigatory Prosecutor's Office that have been operated at scattered locations before, was brought about at a cost of 3,8 billion Forints.
In the two story building accomodating 115 offices and a 124 strong staff, up to date interrogation and praemunire rooms, archieves suitable for long term storage and a contemporary tele-interrogation room have also been built.
From our Technical Report:
ARCHITECTURAL CONCEPTION
To match the architectural ambience at the other side of Gr. Apponyi Albert Street a light in colour, large blocked prefab concrete clad, modulated architecture of vertical stripes has been designed.
Tradition:
REPRESENTATION – ORDER - SAFETY
"Law enforcement palaces" of the past were characterized by a traditionally harmonious shaping of building mass, a usage of good quality building materials, a high quality of construction, and a most disciplined sort of elevations. To this day local inhabitants have been being under the influence of the sense of order and safety emitted by city center court buildings of the late XIX. century. At the same time the uniformed, industrialized architecture of the mid XX. century has passed rapidly into the limbo of history. It is the noble architecture stemming from tradition and locale that has to be rejuvenated and fitted to the requirements and expectations of the XXI. century.
A rejuvenated image:
TRANSPARENCY AND PROPORTIONS – CUSTOMER FRIENDLY AMBIENCE – SUSTAINABILITY
Heritage of tradition and a rejuvenated image are most authentic when complementing each other. To fit into a provincial city milieu and to show a humanistic message for the future to the people are things to be done simultaneously. Order and transparency, space needs of different organizations and a visual balance of the new building masses, office functionality and an interiour design friendly to staff /customers, economical construction/ operation and high key solutions and appearance are to constantly be reconciled to each other.