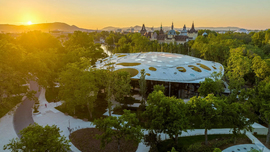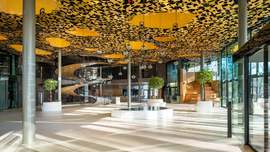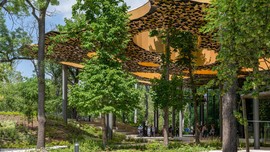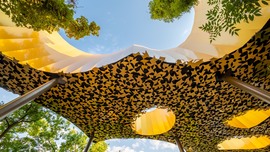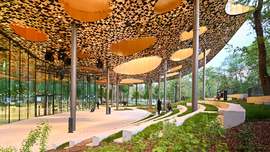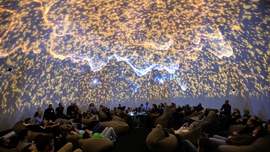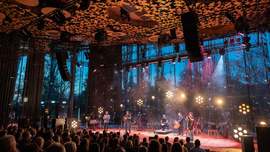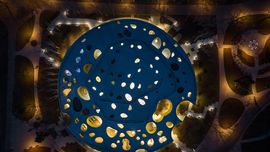 House of Hungarian Music
2014-2022, Budapest, Városliget
lead designer: Sou Fujimoto, hungarian partner: M-Teampannon, photos:
Another good example of a high level international design cooperation involving M-Teampannon Ltd.
In 2014 the idea of bringing about a new major, multipurpose cultural facility in prestigious City Park 'Városliget' of Budapest (similar to London's Hyde Park), was put into action by announcing the international architectural competition for the House of Hungarian Music.
The competition winner Sou Fujimoto Architects of Tokyo, Japan chose Teampannon Ltd. as its Hungarian design partner, and there ensued a 7 years long intensive and most fruitful cooperation.
Mr. Fujimoto's vision of the cultural and community building was to integrate the natural ambience (the century old trees of the Park) and the newly built public spaces of the House into an inseparable whole, by extending the experience of a step-by-step transition between Architecture and Nature and enabling a dialogue between those two extremities by way of the following architectural means:
He conceived the double internal height, organically contoured ground floor of the building as a totally transparent, fully glazed, large span space containing the entrance facilities, two multipurpuse Auditoriums, and a central levitating spiral staircase, all of them surrounded by 8-12 m high uninterrupted, self supporting glass surfaces, so that the whole ground floor (even the Auditoriums) invited the beautiful sight of the Park into and through themselves.
A second row of public spaces (Exhibition halls, a scientific purpose Sound Dome, etc.) were put into the two-story basement, accessed by the suspended spiral staircase, together with a host of ancillary (BOH) spaces like artefact handling, air-conditioning and other building mechanics facilities.
All the rest of the functions, like offices, researchers' rooms and other staff functions were sandwiched between the lower and upper layer of the amorphously shaped second story of the building; 'Smart Roof', a most challenging space with floor and roof on constantly and independently varying elevations, and illuminated by an extensive and penetrating system of courtyards often doubling as skylights to the ground floor below. Both the intricate steel structure, leaves-pattern suspended ceiling and the rainwater management, waterproofing of this sandwich roof proved to be a pioneering technical feat in Hungary, teeming with innovative engineering solutions.